Pin It
Question: Why are bananas never lonely?
Answer: Because they hang around in bunches !!
What to do with those few extra bananas
that are just a little too ripe to eat?
Make cupcakes!!
This is another great recipe from 
Martha Stewart's Cupcakes
This is an awesome cookbook and worth the investment.
I'm baking my way through the collection and
enjoying the ride along the way.
I think Banana Cupcakes qualify as breakfast food,
and most certainly a delightful afternoon snack with a cup of tea.
Ma
rtha Stewart's Banana Cupcakes:
Note - the recipe posted here is from
Marthastewart.com
. It is similar to the recipe in her cookbook but not exact. The recipe in the cookbook uses sour cream and also whipped egg whites which in turn yields an extremely light and moist cake. The banana flavor is subtle - just right - not overpowering like in a banana bread.
1 1/2 cups all-purpose flour (spooned and leveled)
3/4 cup sugar
1 teaspoon baking powder
1/2 teaspoon baking soda
1/4 teaspoon salt
1/2 cup (1 stick) unsalted butter, melted
1 1/2 cups mashed bananas (about 4 ripe bananas), plus 1 whole banana, for garnish (optional)
2 large eggs
1/2 teaspoon pure vanilla extract
Preheat oven to 350 degrees. Line a standard 12-cup muffin pan with paper liners. In a medium bowl, whisk together flour, sugar, baking powder, baking soda, and salt.
Make a well in center of flour mixture. In well, mix together butter, mashed bananas, eggs, and vanilla. Stir to incorporate flour mixture (do not overmix). Dividing evenly, spoon batter into muffin cups.
Bake until a toothpick inserted in center of a cupcake comes out clean, 25 to 30 minutes. Remove cupcakes from pan; cool completely on a wire rack. Spread tops with Honey-Cinnamon Frosting. Just before serving, peel and slice banana into rounds, and place one on each cupcake, if desired. I also added a pecan for an extra touch.
Honey-Cinnamon Frosting:
1 1/4 cup confectioners' sugar
1/2 cup (1 stick) unsalted butter, room temperature
1 tablespoon honey
1/8 teaspoon ground cinnamon
In a medium bowl, using an electric mixer, beat confectioners' sugar, unsalted butter, honey, and ground cinnamon until smooth, 4 to 5 minutes.
These babies are headed to my folk's cottage.
Go wild - delight in a banana cupcake today!
I'm Lovin my Martha Stewart's Cupcakes Cookboook
and linking up to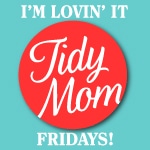 and