Pin It
I love when there are a few extra ripe bananas sitting in the fruit bowl. It gives me an excuse to bake something tasty! There also happens to be a few bags of frozen blueberries in my freezer from last year's harvest. This recipe for blueberry banana bread was just jumping off the page waiting to be embraced. And embraced it was! The loaf was almost gone as soon as it came out of the oven. I barely was able to snap a photo of a slice before it was gobbled down.
Blueberry Banana Bread
1 cup blueberries (fresh or frozen)
2 cups + 1 Tablespoon flour
3/4 cup sugar
1 teaspoon baking powder
1/2 teaspoon baking soda
1/2 teaspoon salt
1/2 teaspoon cinnamon
1 cup mashed ripe bananas
1/2 cup buttermilk
6 Tablespoons melted butter
1 large egg
Preheat oven to 350 degF. Mix blueberries with 1 Tablespoon of flour (this helps to keep the blueberries from falling in the batter while baking). In a separate bowl, blend fry ingredients - flour, sugar, baking powder, baking soda, salt and cinnamon. In another bowl, whisk bananas, buttermilk, butter and egg to blend. Stir flour mixture into wet mixture until moist (note: batter will be stiff). Fold in the blueberries. Pour batter into a greased loaf pan; sprinkle with oatmeal streusel (press in lightly). Bake for 60-70 minutes until a inserted toothpick comes out clean.
Oatmeal Streusel:
In a bowl, combine 1/4 cup flour, 1/4 cup rolled outs, 1/4 cup chopped banana chips (optional), 2 tablespoons of brown sugar (packed) and 2 tablespoons of butter (cut into chunks) and 1/4 teaspoon of cinnamon. Mix all ingredients with fingers until fine crumbs form.
Happy Baking!
Linking Up To: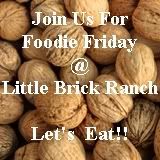 Sweet Tooth Friday